Have you ever wondered what goes into running things behind the scenes of your favorite anime/comic/gaming/sci-fi/geek convention? Here's your chance to find out. 
Convention Nerds is an hour-long weekly show on Wasabi Anime's Twitch hosted by convention personalities Tom Croom and Ken "Joey Snackpants" Nabbe. Live episodes stream Tuesday nights at 8:30 PM Eastern Time Zone.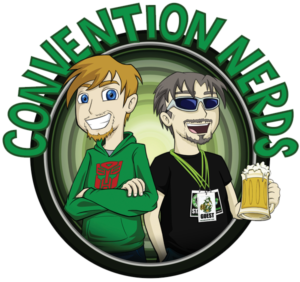 Each week features an industry guest discussing the event they work with and sharing their insights into pop culture conventions in general. The show is broadcast live on Twitch and viewers can submit questions in the chat window during the stream. Episodes are posted on Wasabi Anime's Facebook Page, YouTube Channel and as an audio podcast two weeks after the Twitch broadcast.
---
Hiatus until 2021
Episode 15: TBD | 01/05/2021 |  01/19/2021
Episode 16: TBD | 01/12/2021 |  01/26/2021
Episode 17: TBD | 01/19/2021 |  02/02/2021
Episode 18: TBD | 01/26/2021 |  02/09/2021
Episode 19: TBD | 02/02/2021 |  02/16/2021
Episode 20: TBD | 02/09/2021 |  02/23/2021